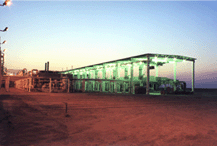 This agreement, for the processing of associated gas that is produced with the oil was concluded in March 1989.
collects and treats this gas in the stations ( Omar, Omar North, Shahel, Tanak, and Isba ) then transports it through pipelines to the Omar Gas Plant for treatment . Treated gas is transported to various power stations distributed throughout the country . The purpose of this agreement is to maximize the utilization of associated gas and minimize flaring .
This agreement has led to the economic recovery of this energy , it helps to preserve the environment and supports the supply of LPG to the country.